Joel M. Pritchard Library project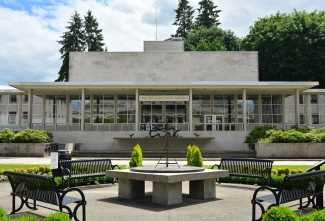 The Joel M. Pritchard building has significant functional, health and life safety hazards that must be addressed, which are detailed in the 2017 State Capitol Development Study and earlier phases of the LCM Predesign Study. Examples include:
More than 60 percent of the building is vacant because it was constructed for book storage and does not meet standards for use as office space.
The building's proximity to a steep, unstable slope and its inadequate lateral resistance system increase risk of failure during a seismic event.
Needs with the Pritchard Building will be addressed as part of Legislative Campus Modernization (LCM).
Latest updates
BNBuilders has been selected as GC/CM for the Pritchard and O'Brien Project.
DLR Group of Seattle was selected as AE for the Pritchard and O'Brien Project.
Project is currently in the Schematic Design (SD) phase. This will last until late Feb. or early March 2023.
Pritchard Building Rehabilitation/Expansion Validation Study was completed in March 2022. View the study here.
During its Jan. 25 meeting, the State Capitol Committee (SCC) approved DES' recommendation that Option A (renovation and expansion of existing Pritchard Building) be the preferred option in the Pritchard Building Rehabilitation/Expansion Validation Study's final report. This recommendation also has concurrence from the Project Executive Team (PET) and Peer Review Panel.
LCM public meetings
Find information about upcoming LCM public meetings and presentations and notes from past meeting here.