East Plaza Water Infiltration Repair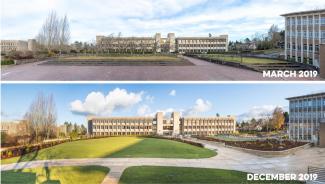 Photo courtesy of Washington Patriot
East Plaza Water Infiltration Repair
This project is the second phase of a multi-phased plan developed in 2006 to implement a master plan approved by the State Capitol Committee in 1997. It removed the former landscape and garden beds in front of the Department of Transportation and Employment Security buildings so crews could replace the failing waterproof membrane on the roof of the Plaza Garage and replaced the landscape. The new landscape showcases green lawns and decorative plants that thrive in shallow soil. Many are native to the Pacific Northwest.
The project began May 1, 2019, and reached substantial completion in December 2019.
Plaza Garage lighting improvements
Work to improve the lighting in the Plaza Garage was completed in April 2021. The $2.4 million project installed 16"x16" LED lights on levels A-E and upgraded aging electrical panels in the garage. This new lighting adds to the existing lighting and significantly brightens the driving lanes and pedestrian walkways, making the garage easier to navigate and improving safety.
East Plaza Tenants