Brand Style Guide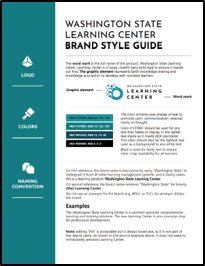 The Brand Style Guide outlines how to use the logo, color palette and naming convention for the Washington State Learning Center.
Note: If your organization has a custom brand in the Learning Center, this style guide does not apply.
Download the Brand Style Guide
.
Image Library
The Learning Center has 50 pre-loaded images in the asset library that complement the enterprise branding (see Brand Style Guide above). Use these images when creating or updating a course to ensure every course has a visual component.
To add an image in the Learning Center, you will need its URL:
View or download the Learning Center Image Library.
Copy the URL of the image you want to add to the course.
In the Learning Center, paste the URL into the course's "activity image" field.
Logo files
PNG format
Hover over the hyperlink, right click, and choose "Save as" to download the logo file.
Vector format
PowerPoint