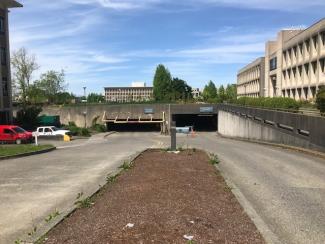 Electric vehicle charging station installation
A project to install EV chargers in the Plaza Garage began in May 2021 and will be completed by the end of June 2021. The chargers are being installed to primarily support employee workplace charging, but will also be available to state-owned vehicles.
Impacts
Some parking stalls will be temporarily closed during the work. Closed stalls will be marked with cones and signage. Once transitioned, these stalls will be reserved for EV parking only.
Past Projects
2012 -- Plaza Garage LED lighting replacement
2015 -- East Plaza Garage elevator and water infiltration repair (Phase 5A)
2016 -- Plaza Garage enhancement project
2019 -- East Plaza water infiltration repair (Phase 5B)
2019-2021 -- Plaza Garage electrical upgrade and lighting replacement



Photos courtesy of Patriot Construction
2021 -- Emergency backup generator replacement