Sending and receiving mail
Campus mail
Campus mail is mail sent from agency to agency through the state mail system. See the Distribution Map for area details or use our mailstop lookup tool to find a mailstop.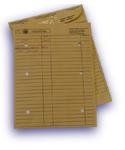 Using campus mail service
The following guidelines will ensure efficient campus mail service:
Address the item with the recipient's name, agency, and PO Box or mailstop. A return address is also recommended.
Leave the item in the designated campus mail pick up location at least fifteen minutes prior to the scheduled pick up time.
Segregate campus mail from mail that will leave the state system.
Break larger packages into smaller cartons if heavier than 70 pounds.
Let us know when you have an unusually large mailing by calling 360-664-9616.
Hazardous material shipments must comply with all state and federal requirements. Contact us for details.
Campus mail can be tracked when requested before mailing by using the Campus Mail Tracking form. You can request this form by calling us at 360-664-9617.
State employees are prohibited from using the state mail system for personal mail, including mail order and catalog items. See RCW 42.52.160
Addressing campus mail
Click an image to view proper addressing of campus mail and packages:
| | |
| --- | --- |
| | |
| Mail | Package |
Incoming mail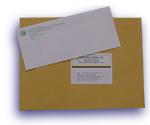 Mail addressed to the 98504 Zip Code is sorted and delivered by CMS to our customer agencies within Thurston County. Agencies can reduce incoming mail costs and speed processing by following these guidelines:
Remove staff names from bulk mail lists when possible.
Communicate the correct mailing address to your customers including the agency, PO Box, and 98504 Zip Code.
Update outgoing correspondence with current address including PO Box and 98504 Zip Code +4.
Contact the sender and provide correct address information whenever mail is received with an incorrect address.
Use the street address to receive items through carriers such as UPS, FedEx, and other vendors.
Follow the format below when communicating your mailing address to customers and clients:
Addressing incoming mail
| | |
| --- | --- |
| The individual's name: | MR JOHN SMITH |
| The division or work unit: | ADMINISTRATIVE SERVICES |
| The department: | DEPARTMENT OF AGRICULTURE |
| The five digit PO Box number: | PO BOX 42565 |
| The city, state, and ZIP+4: | OLYMPIA WA 98504-2565 |
If you receive mail in error
CMS is committed to delivering your mail with efficiency and precision. If you receive mail not intended for your location, please alert a CMS representative by calling 360-664-9507. It's important to contact us so we can troubleshoot and fix errors.
Outgoing mail services
CMS provides a full range of outgoing USPS mail and packages services and FedEx services. The following tips will help ensure proper handling and reduce costs.
Include a Mailing Instruction Form (pink slip) when mailing letters or sending packages. Indicate which service you are requesting by marking the appropriate box on the pink slip.
Fill out other required forms as needed, such as Certified Mail forms or FedEx or UPS Express shipping labels, and attach them to the item(s).
Use the proper address format.
Request Presort services for reduced postage rates on qualifying letters and flats. To qualify, items must be machine readable and meet USPS requirements for letters and flats.
Request Electronic Return Receipt instead of using PS Form 3811 to save $1.20 on each piece.
Outgoing mail services cut-off times
| | |
| --- | --- |
| ​Presort letters | ​1:30 p.m. |
| ​Full rate USPS mail | ​5:30 p.m. |
| ​USPS Priority Mail Express | 2:30 p.m. |
| ​FedEx Express | ​Monday - Friday 3:30 p.m. |
| ​FedEx Ground | ​5:00 p.m. |
| UPS Air | Monday - Friday 4:15 p.m. |
CMS customers within Thurston County should note that FedEx Express items may not receive overnight service if picked up at your location by CMS after 3:00 p.m. The FedEx departure from CMS for Express services is sooner than CMS drivers sometimes arrive back at our facility. Customers are welcome to drop off urgent items at CMS prior to the FedEx departure times. The FedEx Express departure time can also be moved up with little or no notice due to traffic or inclement weather issues in Western Washington or their hubs in other states.
Be sure to segregate these items from your regular mail so they are easily identified by CMS at your pick up location.
Inserting and mailing preparation services