Legislative Building Exterior Preservation Cleaning (Roof Repairs)
Status: Scheduled for completion October 2021
As buildings get older, their maintenance needs increase. This is apparent in the aging roof system on the historic Legislative Building, which is nearing the end of its useful life and has become more prone to water leaks and other issues. Work to address water leaks in the building's four mini-domes and 4th floor roof parapets began in December 2020.
Impacts
During the repairs, there will be noise, parking and pedestrian impacts as well as odors related to roofing work. Odor and noise will be monitored on an ongoing basis so adjustments can be made as needed to minimize impacts. Signs and flaggers will be on site to direct pedestrian and vehicle traffic. All scheduled work is weather dependent.
Latest updates
Work is nearing completion
Scaffolding deconstruction is underway
Work scheduled for completion Oct. 2021
Last updated Sept. 2021
Past Legislative Building projects
Dome cleaning and masonry repair - 2018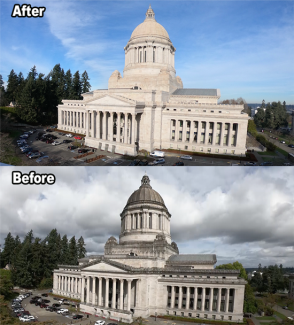 Masonry preservation work on the Legislative Building's dome, which includes cleaning, is generally performed about every seven years. The dome usually has a darkened appearance within five to six years of cleaning due to a lichen that grows on the sandstone. The growth is a natural occurrence in the northwest.
While brightening the dome's appearance is the most noticeable aspect of the work, cleaning and preservation work go hand-in-hand. Not only would it be cost prohibitive to perform cleaning and preservation separately, cleaning without preservation work raises risk for water seeping into joints between the sandstone once lichen growth is removed. Cleaning also:
Helps reveal areas where mortar between joints is failing or where the stone may be damaged
Creates a clean surface so that the mortar can be replaced and sandstone may be repaired
Removes lichen that can lead to sandstone deterioration if not periodically washed off
Improves the appearance of the building
Watch a timelapse video of the dome cleaning here.
Photo credit: the Legislative Support Services Video Department and Legislative Support Services Facilities & Supply
Video courtesy of Legislative Support Services and Dave Whitmore
Water Leaks
Work on a new metal roof above the State Reception Room, where there was an active leak, was completed in December, 2016. Prior to the work, the only cover over this portion of the building was exposed sandstone. The new roof was part of a larger West Campus Exteriors project in 2017.
DES also completed an emergency repair in January 2017 to fix multiple leak locations in the building's southwest corner parapet walls and caps.
In May of 2017, DES authorized use of an unmanned aircraft system (UAS) on the Capitol Campus to make detailed observations of the roof of the historic Legislative Building that it would be difficult and expensive to safely access in person. A DES contractor used the UAS to examine the Legislative Building roof for possible defects and points of failure to identify where water is penetrating the building's mini-dome and causing damage.
Learn more about steps Enterprise Services is taking to address water leaks in state-owned buildings.
Other
1949 – Seismic upgrade and repairs following the 1949 earthquake. Stone lantern at the dome's cupolas replaced with a metal one. Cupola also reinforced with steel in the columns, cornice and sides of the arches.
1956 – Elevator upgrades, including replacement of original bronze grille doors, rebuilding of cabs, and updates to operating equipment.
1973 – Major structural upgrade installed concrete shear walls in select locations. Air conditioning system added, requiring installation of acoustical drop ceiling in most perimeter offices.
1974-1975 – ADA upgrades, including conversion of private southeast corner entrance to a public, universally acceptable entrance.
1985 – Realization of original decorative paint schemes in Rotunda, House and Senate Chambers, as well as some elected officials' offices. Plaster repairs. New metal railings installed in galleries. General cleaning of marble and bronze elements.
2002-2004 - Major rehabilitation that included earthquake upgrades, as well as upgrades to systems, fire protection, accessibility, and a general infrastructure overhaul.
2012-2013 - Extensive dome cleaning and sandstone repair project.
2017 - Historic Buildings Exterior Repairs Project included cleaning of the building's stairs, plaza deck and plinths and masonry repairs to the legislative stairs and plaza.
Building History
Washington State's Legislative Building, often referred to as the Capitol Building, is the centerpiece of the five historic capitol buildings designed by New York architects Walter Wilder and Harry White. It houses the two chambers of the state legislature and offices of several elected officials, including the governor.
Conceived in an architectural competition in 1911, and selected by the State Capitol Commission, Wilder and White's designs for the Legislative building were completed and set into implementation in 1922. The building was completed in 1928 after six years of construction. The Legislative Building was added to the National Register of Historic Properties in 1979.
The building is the dominant feature of the capitol grounds, with its dome 287 feet (87m) high, making it the tallest self-supporting masonry dome in the United States and fifth tallest masonry dome in the world. The structure consists of 255,564 gross square feet and is comprised of more than 173 million pounds of stone, brick, concrete and steel. The basic floor plan of the Legislative Building is simple, formal and symmetrical. There is a square, central section of four floors, surmounted by a domain. The Rotunda under the dome contains eminent public space above the first floor, with the tall, open space above it soaring 174 feet from the floor to the top of the interior dome. Rectangular wings of equal size on the east and west flank the central sections, and contain House and Senate activities, as well as offices for elected officials.
A number of features in the structure commemorates Washington's addition to the Union as the 42nd state: 42 steps lead to the building's north entrance, and one of the four 42-star flags owned by the State are displayed in the State Reception Room.
More information