State Document and Mailing Standards
Overview
To reduce mailing costs, simplify the mail process, and help customers improve mail quality and tracking, DES has outlined the following document-creation and mailing standards for all state agencies.
These standards apply to the document layout, the barcode that guides the inserting equipment, and the envelope carrying the material. Standardizing the essential components of mailings not only coincides with the state's prescribed measures, it also reduces the overall cost of governmental operations and diminishes total carbon footprint.
Insert integrity
As a mail service provider, our staff at Consolidated Mail Services understands how important quality assurance is to state agencies. The ability to irrefutably account for the creation, processing, and transmission of a document can make a critical difference when legally sensitive material is being handled. Customers can choose the level of integrity of inserting services to meet their need. To help assist you in understanding the integrity level of your inserted mail, we've developed a simple comparison sheet that outlines the benefits of each level of integrity.
Top Level Integrity — Two barcodes applied to documents during print file generation allow each piece of mail to be tracked individually during print, assembly, and mailing through the USPS. Any piece that is damaged or dropped out of the automated process will be regenerated to avoid manual handling of this mail.
High Integrity — Using file-based technology, each piece of mail is tracked through the print and assembly process via an intelligent insert barcode and a mail run file that accounts for each piece during processing. With this system, customers can see when a mail piece was processed and if any pieces were processed manually.
Moderate Integrity — This basic level of integrity requires an intelligent barcode that drives the insert machine. This barcode helps to ensure pages for each client are kept separate. Piece counts are also required for this level of integrity so customers can be contacted if the number of mail pieces generated doesn't match number of pieces inserted.
Minimal integrity — This non-intelligent or non- barcoded type of processing does not allow for collation and does not provide piece count verification, matching capabilities, or tracking of any kind.
Mail Integrity Gradation Comparison
|   | Count Verification | Insert Barcoding | File-based Tracking | Closed Loop Control | IMB Tracking |
| --- | --- | --- | --- | --- | --- |
| Definition | Piece count provided to verify that the correct number of pieces are processed. | 2-of-5 or 2D barcode with unique serial number used for each set inserted into an envelope. | Data file loaded on inserter verifies that the correct pages are inserted and records any piece that drops out of machine to be manually assembled. | Any pieces dropped out of machine to be manually assembled are destroyed and reprinted to ensure automated assembly. | Intelligent Mail Barcode (IMB) is used to track mail piece through the USPS processing plants. |
| Top Level Integrity | X | X | X | X | X |
| High Integrity | X | X | X |   |   |
| Moderate Integrity | X | X |   |   |   |
| Minimal Integrity |   |   |   |   |   |
Document layout for automated inserting and presorting
The first stage of any mailing is the creation of the documents that will be mailed. The state standard document template will guide you in designing the cover page of your mailing and shows the proper intelligent insert barcode type and placement. Instituting this layout will allow you to utilize the cost effective State Standard Envelopes and ensure that your letters can be presorted for a postage discount.
Insert Barcodes
Whenever a mailing is being mechanically inserted, using "intelligent" barcodes is the goal. These barcodes drive the insert process and add a level of quality and accuracy not available on non-barcoded material. The standard barcodes used by DES are the 24 character interleaved 2D and 2 of 5 barcodes for non-file based insert jobs and a 16 character interleaved 2 of 5 barcode for file based inserting. Below is a breakdown of both barcode types.
State Standard 24 character 2 of 5 barcode (Non-File Based)
Field #
Character Count
Field Type
Description
Field 1
8 character
Job Information
Can be used for job names or to match checks
Field 2
6 character
Sequence Number
Unique identifier associated with an individual mail piece
(999,999 limit)
Field 3
2 character
Page Collation
Unique page number for each page within a mail piece
Field 4
1 character
Insert Station 1
Used to control first insert station
Field 5
1 character
Insert Station 2
Used to control second insert station
Field 6
1 character
Insert Station 3
Used to control third insert station
Field 7
1 character
Insert Station 4
Used to control forth insert station
Field 8
1 character
Insert Station 5
Used to control fifth insert station
Field 9
1 character
Insert Station 6
Used to control sixth insert station
Field 10
1 character
Insert Station 7
Used to control seventh insert station
Field 11
1 character
Insert Station 8
Used to control eighth insert station
State Standard 16 character 2 of 5 barcode (File Based)
Field #
Character Count
Field Type
Description
Field 1
7 character
Job Information
Job information matched to file
Field 2
6 character
Sequence Number
Unique identifier associated with an individual mail piece
(999,999 limit)
Field 3
3 character
Page Collation
Unique page number for each page within a mail piece
*Insert Stations are controlled by file
Outer Envelopes
Streamlining of the inserting process is best achieved by utilizing the two State Standard dual window envelopes available from our inventory; a #10 (normal letter size) and a 6" x 9.5". You may utilize one of these envelopes for future inserting jobs if your document fits a few easy format guidelines. Once you start using the state standard envelope your agency will no longer need to order or store envelopes.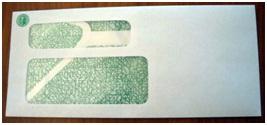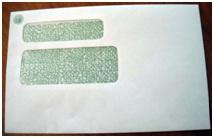 How does this service contribute to savings goals?
Realize the lowest possible cost. DES takes advantage of volume pricing and passes the savings to you.
Eliminate additional invoicing. DES will add the envelope cost to your inserting job cost and include it in your monthly invoice.
Eliminate ordering or warehousing envelopes for qualifying inserting jobs.
Increase sustainability efforts by reducing waste and transportation.
Reduce the potential for delays. DES will maintain a constant supply of these envelopes, eliminating the possibility of jobs being held while waiting for stock to arrive.
Maximize postage savings. These envelopes are chosen specifically for their capacity to easily accommodate a wide range of state mailings and still qualify for postage discounts.
Other mailing standards to consider
Tabbing – Tabbing is most commonly used for self-mailers. DES provides tabbing services for customers. For the recommended tab placement, see the tabbing guidelines.
Paper weight – Recommended paper weights:

Postcards – 75 lb cardstock, non-glossy
Self mailers – 28 lb paper, non-glossy
Inserts (for automated equipment) - 28 lb paper, non-glossy

Folding – for self mailers and inserts, "C" folds are required with the fold at the bottom.
Ink jet file format – for ink jet addressing, use this for your address list.
Delivery address specifications – The USPS has guidelines for formatting delivery addresses.
Tap test – Mail in windowed envelopes must meet USPS requirements.