Helen Sommers Building Artwork
Mural
The mural by artist Jean C. Beall moved into its new home in the Helen Sommers Building on Feb. 23, 2019. The mural was commissioned by the State Capitol Committee in 1956. It celebrates the state's rich natural resources, economy, labor, and industries. It is one of only three significant works of art by a woman artist on the Capitol Campus.

Video is courtesy of Omega Morgan.

Building artwork
In May 2018, artwork for the Helen Sommers Building was installed on the building's west atrium wall.
The artwork was paid for using one-half of 1 percent of building construction costs as required by state law.
The contemporary, three-dimensional piece is designed to reflect upon one of our state's greatest natural resources – water.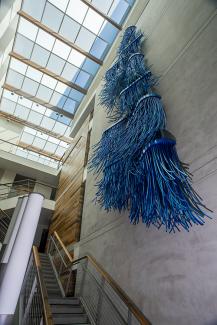 The artwork is divided into 10 sections, which the artist says represent 10 major watershed areas in the state.
Beliz Brother is a decorated artist whose work has been exhibited at the Seattle Art Museum, the Institute of Contemporary Art in Philadelphia, San Francisco's New Langton Arts and the Henry Art Gallery in Seattle. Other state-commissioned installations of her sculptures can be seen at Tacoma Community College and Everett Community College. Other permanent installations of her artwork reside at the Tech Museum of Innovation in San Jose, Calif., and Swedish Health Services and Harborview Medical Center in Seattle.
The artist was selected and commissioned with the help of the Washington State Arts Commission and a seven-member Art Selection Committee that included building tenants, a community member, a local artist, and the 1063 Block Replacement Project Director.