Legislative Campus Modernization (LCM)
The Legislature directed DES to oversee work for Legislative Campus Modernization (LCM) to address space needs of legislative agencies and critical issues with the Irving R. Newhouse, Joel M. Pritchard and John L. O'Brien buildings. The project will take place over the next six to seven years. View the proviso language found in Section 1111 of the 2021 Capital Budget, SHB 1080.SL here.
The scope of LCM is comprised of a series of subprojects located on different sites on the West Capitol Campus. In general, the first major step for each project is site analysis and design work. These steps include stakeholder engagement as well as technical studies.
Latest updates
Water Street partial closure
A portion of Water Street between Sid Snyder Avenue Southwest and 15th Street Southwest will be closed to through traffic from Monday, Oct. 23 through approximately Nov. 7. Please use alternate routes. 
Impacts: The sidewalk on the east side of Water Street will be closed. Twelve assigned parking spots will be closed. Parkers have been notified. The sidewalk on the west side of Water Street will remain open.
When: Oct. 23 – Nov. 7, 2023
Columbia Street closure
As part of the LCM Newhouse Building Replacement Project, DES will temporarily close Columbia Street between Sid Snyder Avenue Southwest and 15th Avenue Southwest on Aug. 1. It will remain closed to both vehicle and pedestrian traffic until Dec. 1, 2023.
Locations Impacted: There are no campus buildings in the immediate vicinity of Columbia. This stretch of road runs between the Newhouse Building replacement construction site and the former Visitor Center Parking Lot.
When: Aug. 1 – Dec. 1, 2023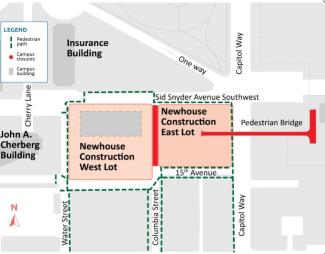 Pedestrian bridge closure
The Department of Enterprise Services (DES) is temporarily closing the Pedestrian Bridge that connects the East and West Capitol Campus for safety during construction of the Newhouse Replacement Building that is part of Legislative Campus Modernization (LCM).
Scope and Impact
Where: Pedestrian Bride over Capitol Way between 14th and 15th Avenue.
When: May 15, 2023
We anticipate reopening the bridge in time for the 2025 legislative session.
Alternate Routes:
Pedestrians and cyclists should follow signs on campus that indicate alternative routes for crossing Capitol Way.
Crosswalk near the State Archives Building and the Tivoli Fountain.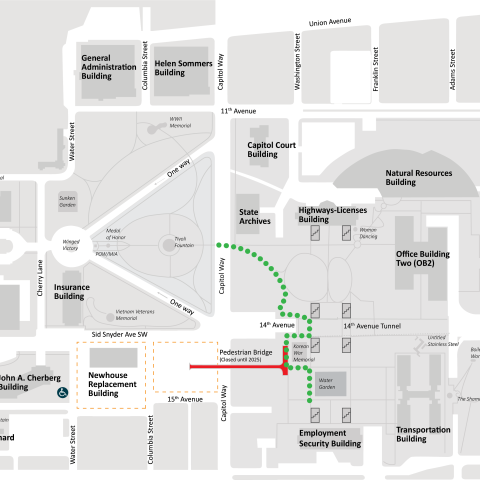 We are now publishing the LCM weekly update to keep campus tenants, visitors and local residents up to date on planned LCM construction work and how it impacts the campus.
Demolition of the original Irv Newhouse Building is complete.
Crews are working on the replacement building basement and elevator.
Estimated substantial completion date is November 2024.
Final Newhouse State Environmental Policy Act (SEPA) environmental review documents have been released.
The design phase of the Pritchard Rehabilitation and Expansion Project is wrapping up.
The Pritchard SEPA environmental review comment period is closed and staff is reviewing comments and crafting responses.
Pritchard Building Rehabilitation/Expansion Validation Study was completed in March 2022. View the study here.
John L O'Brien
Design work continues on the O'Brien remodel project.
Program validation for O'Brien is complete.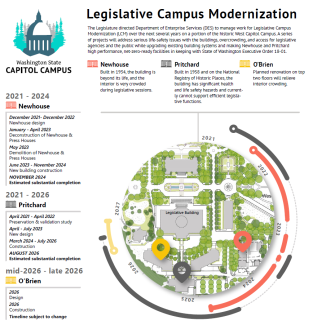 Frequently Asked Questions

Why is DES using the General Contractor/Construction Manager (GC/CM) procedure for the Newhouse replacement project?

The project meets the criteria established in RCW 39.10.340 for use of the GC/CM procedure. The GC/CM procedure accelerates project delivery by hiring a contractor before the start of construction so they can provide feedback during the design phase, including advising on best practices and ways to reduce costs and schedule risks.

What is happening with the press houses (Carlyon House and Ayer House)?

DES will move forward with preparing the site to accommodate Newhouse Building Replacement construction, which includes either the removal or demolition of the Press Houses.

Why was the LCM predesign done, and how were its goals determined?

DES was directed to conduct the Legislative Campus Modernization predesign by the Legislature (ESSB 6248, Section 1027, Chapter 356, Laws of 2020 and ESSB 6095, Section 1035, Chapter 298, Laws of 2018). These legislative provisos identify the goals for the predesign, and appropriate funding for the predesign.

What does the LCM predesign identify for further study?

The Legislative Campus Modernization predesign examines options to replace the Irving R. Newhouse Building, replace or renovate the Joel M. Pritchard Building, and to renovate the third and fourth floors of the John L. O'Brien Building. It examines options to address life-safety concerns as well as issues with safety and security and failing operational systems. The analysis also includes options to maintain or increase the parking capacity of the Capitol Campus, meet net zero energy ready standards and an energy use intensity (EUI) of less than 35, and provide temporary office space during construction.

In addition to providing an alternatives analysis, the LCM predesign identifies design considerations that will require further investigation and analysis. In general, these include:

Traffic, including a City of Olympia proposal to install a roundabout at the intersection of Capitol Way South, 14th Avenue Southeast and Sid Snyder Avenue Southwest as well as possible vacation of Columbia Street Southwest
Development of a Department of Archeology and Historic Preservation (DAHP) mitigation plan regarding historic structures and items
Parking needs
Onsite solar options
Further geotechnical analysis
Significant trees
Site survey information regarding the visitor center
Needs and timing regarding temporary facilities

The LCM predesign builds on a number of planning resources, like the 2017 State Capitol Development Study, which supplement the 2006 Master Plan. Learn more about the State Capitol Master Plan and supplemental planning resources here.

What are the issues with existing buildings?

Newhouse Building

The Newhouse Building was built as a temporary structure in 1934, and needs to be replaced. Maintaining the building and troubleshooting problems with water leaks, a failing foundation, and a troublesome heat system has become increasingly expensive and challenging over the past two decades.
Structural systems do not meet current code. Inadequate masonry anchorage creates a safety hazard from falling brick at building exits.
The building envelope (exterior) does not meet current energy codes. It allows rainwater to leak into the building. Water infiltrating exterior walls creates a life safety issue for electrical wiring and devices.
Mechanical, electrical and plumbing systems do not meet current code. The domestic water piping is corroded, leaks and provides poor water quality. The fire alarm system is inadequate and constitutes a life safety hazard.

Pritchard Building

The Pritchard Building was completed in 1958. The 2017 State Capitol Development Study indicated that the facility has significant functional, health and life safety hazards that must be addressed. More than 60 percent of the building was constructed for book storage and cannot be used for office space. This portion of the building is vacant.
Proximity to a steep and unstable slope, challenging soil properties, and an inadequate lateral resistance system, which increases the risk of failure during a seismic event resulting in a public safety concern.

O'Brien Building

The O'Brien Building was constructed in 1940, and comprehensively renovated in 2014.
The interior design and locations of legislative assistant workstations leads to overcrowding when constituents visit their representatives during session, which compromises access, security and privacy.
There is demand for additional hearing space, caucus rooms, space for interns and additional session staff, and storage space to support legislative functions of state government.