Senator Cal Anderson Memorial
Location
The Kwanzan Flowering Cherry Tree dedicated to the memory of Senator Cal Anderson is located on Cherry Lane, east of the Temple of Justice and Legislative Building.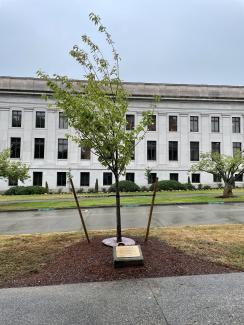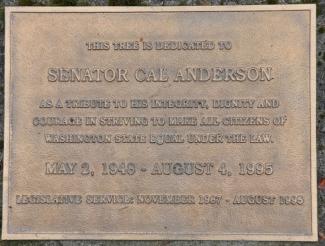 Plaque credit: Joe Mable CC BY-SA 4.0
Inscription
This tree is dedicated to Senator Cal Anderson as a tribute to his integrity, dignity and courage in striving to make all citizens of Washington state equal under the law.
May 2, 1948 – August 4, 1995
Legislative service
November 1987-August 1995
History & significance
Senator Cal Anderson served both the state and our country. He returned from his service in Vietnam as a decorated veteran and entered politics as an aide before serving on the Washington State House of Representatives and then the Senate. He was Washington's first openly gay state legislator, and one of his priorities was extending the state civil rights law to include the LGBTQ community. He also fought for low-income housing.