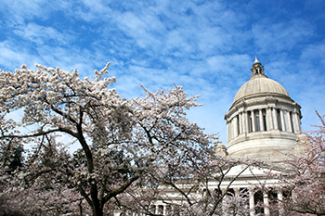 Species
Prunus x yedoensis
Family
Rosaceae
Campus Location
The main grove is south of the Legislative Building. A second, smaller grove is northeast of the Tivoli fountain by the Isaac Stevens homesite.
Native Range
Garden hybrid
Description
Deciduous, growing 20-30 feet tall and 30-40 feet wide.
The Yoshino cherry trees are among the first Capitol trees to bloom each spring, with millions of airy flowers that are shaded from pale pink to white.
Susceptible to the cherry tortrix beetle and foliar fungal diseases.
Landscape uses include patio or deck tree, as well as specimen and plantings in parks.
History and significance:
The grove of 40 Yoshino trees was donated to Washington in 1984 by Mitsuo Mutai, head of Tokyo's Yomiuri Shimbun newspaper and a native of Yoshino, Japan.
Other Resources