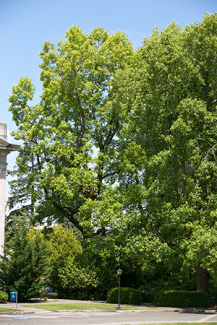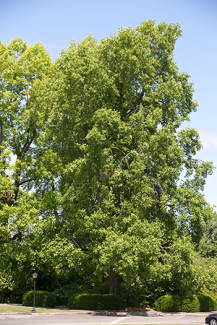 Species
Liriodendron tulipifera
Family
Magnoliaceae
Campus Location
Beside the Temple of Justice and the Legislative building
Native Range
Southeastern U.S.
Description
Deciduous, growing to over 200 feet tall.
The tulip tree is a cherished shade tree because of its towering size. It bears greenish flowers in June and the leaves turn golden in autumn.
No serious susceptibilities known.
Landscape uses include specimen and parks plantings.
History and significance:
The trunks of tulip trees were used as masts in construction of the first U.S. Navy ships. It is a host plant for tiger and spicebush swallowtail butterflies. The species is the tallest of native eastern U.S. hardwood trees.
Other Resources