Park hours
Park hours during the summer (April 1 - October 31) are 7 a.m. - 9 p.m. Park hours during the winter (November 1 - March 31) are 7 a.m. - 7 p.m. Security is provided by the Washington State Patrol.
Parking
Metered city parking can be found on Washington Street SE and 7th Avenue SE. The park is located at 615 SE Washington Street, Olympia.
Park history
In 1850, Edmund Sylvester donated the land which is now known as Sylvester Park to the city of Olympia as a town square for perpetual public use. While the face of the park has changed over the past 150 years, it has served as a public park since Mr. Sylvester's original plat of the city. The park was deeded to the state of Washington in 1905 when the grand stone building across Washington Street became the State Capitol Building.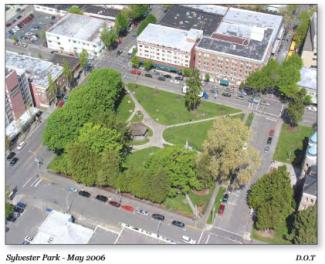 The park is now listed on the national, state, and local registers of historic places. The park is by no means a static showpiece of the past. It continues to serve its vibrant, traditional purpose as a central downtown gathering place for political and cultural interests, both statewide and local, and a peaceful green haven in an urban setting.
The current park landscape has two trees approximately 100 years old, one tree approximately 80 years old, and ten trees that are 45-55 years old. The landscaping and features such as statues and markers reflect the essentials of a design that has been in place since the early 1900's, in spite of changes to walkways and a reconstructed bandstand.
Looking ahead, Sylvester Park will not be developed or altered beyond the preservation and replacement of current or historic features without a thorough assessment and approval process. As an historic resource, the state will perpetuate and maintain the park in accordance with the U.S. Secretary of the Interior's Standards for Treatment of Historic Properties.