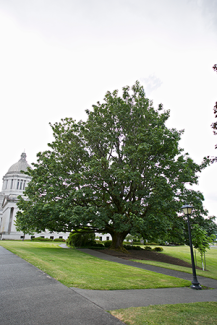 Species
Acer macrphyllum
Family
Aceraceae
Campus Location
East of the Vietnam Veterans memorial
Native Range
Western North America, mostly near the Pacific coast
Description
The Capitol grounds have five towering big-leaf maples with mossy trunks. Some of the group features licorice fern growing on their trunks. The species produces leaves larger than any other maple, often the size of a dinner plate, which turn golden and drop in October.
Deciduous, growing up to 160 feet tall with a trunk width of 70 feet.
Susceptible to maple tar leaf spot in the fall.
Landscape uses include specimen, shade tree, parks, large open spaces, and naturescaping.
History and significance:
These trees date from the 19th century and are native to the Capitol grounds. Washington's tallest big-leaf maple, in the Mount Baker National Forest, stands at 158 feet.
Other Resources