Trees of the Capitol Campus
Washington's Capitol Campus is an internationally accredited arboretum
The Washington state Capitol Campus became an internationally accredited arboretum in February 2023. Simply put, arboreta are collections, or gardens, of various tree species. 
Managed by the Department of Enterprise Services (DES), the Capitol Campus and its building and grounds staff were recognized for proactive planning and the planting, studying, and conservation of its trees. This accreditation makes the Capitol Campus an example other public spaces can follow and makes Washington state a leader among organizations working to get their arboretum accreditation. 
How trees became a centerpiece of the Capitol Campus
The nationally renowned Olmsted Brothers landscape design firm of Brookline, Massachusetts, designed the western part of the Capitol Campus, the section nearest to the Legislative Building and west of Capitol Way. The firm was founded by Frederick Law Olmsted Sr. who is credited with designing many iconic American landscapes, including Central Park in New York City and the U.S. Capitol grounds in Washington, D.C.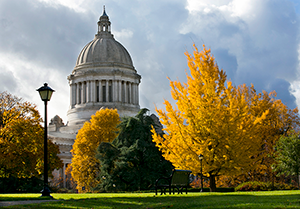 The Olmsteds loved trees. They believed that large shade trees compliment important site features and enrich the health and personal experiences of visitors.
Many of the oldest and largest trees on the west campus are plantings from the original Olmsted design. New trees are planted on campus every year to replace many of those lost or removed due to old age, drought, disease or construction activities.
Proper planting and maintenance is an investment in landscape plants, or green infrastructure. Like roads and utilities, green infrastructure serves important purposes. For example, the 2015 reconstruction of Sid Snyder Avenue on the West Capitol Campus uses trees and shrubs in specially designed roadside swales to capture, absorb and filter stormwater runoff from the roadway. These "bioswales" or "bioretention cells" reduce flooding and improve water quality.
The campus trees help regulate the climate, sequester carbon, filter the air, reduce stormwater runoff, buffer winds, provide wildlife habitat and beautify the landscape. Many campus trees have interesting histories and botanical characteristics that make each one a unique asset.
Our goal at the Department of Enterprise Services is to protect and preserve the west campus trees for their benefits, significance and contributions to an enduring legacy shared by all visitors to the state capitol.
Explore the trees of the Capitol Campus
Either on foot or online, we invite you to learn more about the Capitol Campus and its remarkable trees.
Centennial Challenge
Enterprise Services is partnering with the Department of Natural Resources to plant 100 trees on the Capitol Campus between October 2019 and April 2020 in association with a challenge issued by the National Association of State Foresters (NASF). Learn more.