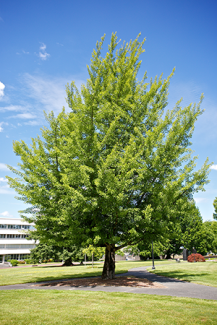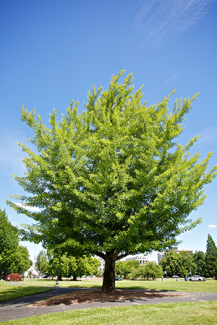 Species
Ginkgo biloba
Family
Ginkgoaceae
Campus Location
Triangle in sidewalk northeast of Sunken Garden
Native Range
China
Description
The ginkgo biloba is a slow-growing, gaunt and striking tree.
Its leaves have an unusual, two-lobe shape and turn a striking yellow in autumn.
Female specimens, such as the one on East Campus, can bear orange fruits consisting of an edible nut surrounded by soft, smelly flesh.
Deciduous, it generally grows 65 to 115 feet tall, but some specimens in China can grow much taller.
The ginkgo biloba has no serious susceptibilities.
Landscape uses include specimen, street tree, shade, parks and large open areas.
History and significance:
Millions of years ago, ginkgo and dawn redwood trees grew in Washington, but geological and climate shifts altered the horticultural landscape. Today, both trees are found in the wild in China, where the ginkgo is planted around temples.
Other Resources