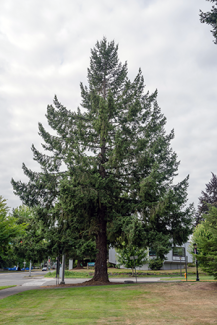 The Capitol Campus has four "moon trees."
The first Washington state "moon tree" was planted as a seedling on the Capitol Campus as part of the U.S. Bicentennial Celebrations in 1976.
Original tree
During the 1971 Apollo 14 moon mission, astronaut Stuart Roosa transported hundreds of tree seeds with him into lunar orbit, including Douglas fir seeds that were germinated back on earth by the U.S. Forest Service. The resulting seedlings were planted throughout the United States. Learn more about this joint project between the U.S. Forest Service and NASA.
New trees
In 2020, three additional moon tree seedlings were planted. The new trees were grown from cuttings from the original campus moon tree. The original idea about propagating "new moons" rose from an assessment of the original tree during a sidewalk repair project in 2010. At the time, a 6.5 inch root was found on the north side of the tree adjacent to and growing under the sidewalk. The root could not be pruned without impacting the structural integrity and health of the existing Moon tree. Design work for the project was modified. If or when the section of the sidewalk adjacent to the tree needs repair, it will be necessary to modify the sidewalk to accommodate the root to allow for continued healthy growth of the tree. In the event that modifications cannot be made and the tree is compromised/removed, there was a desire to have "replacements" on campus.
The new moon trees were planted as part of a larger Centennial Challenge effort in which DES and the Department of Natural Resources partnered to bring 100 new trees to the campus.
Species
Pseudotsuga menziesii
Family
Pinaceae
Campus Location
Near the intersection of Capitol Way and the South Diagonal.
Native Range
Northwest United States, southwest Canada and Rocky Mountains
Description
Also known as the Evergreen.
Can grow over 300 feet tall.
Susceptible to the woolly conifer aphid, wool borers, beetles, weevils and laminar root rot.
Landscape uses include specimen, mass screening, parks, large open spaces, and Christmas trees.
History and significance:
In addition to being the state's "moon tree," the Douglas fir represents the variety that led to Washington's nickname as the Evergreen State. Douglas firs line millions of square miles of Northwest hillsides and valleys. The tree is named for Scottish plant explorer David Douglas, who sent seeds of the species to England in 1827. The tallest of these trees in Olympic National Park stands at 326 feet. The trunks can reach almost 15 feet in diameter. It is one of the world's most important timber trees.
Other Resources