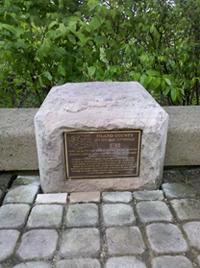 Location:
Heritage Park. The county markers can be found along the 'Arc of Statehood' at the eastern edge of Capitol Lake, mounted on blocks of sandstone that are part of a low wall along the pedestrian pathway.
Description:
39 bronze markers, one for each county in the state of Washington.
Markers are arranged alphabetically beginning at the south with Adams County and ending at the north with Yakima County.
Each marker bears a map showing the location of the county and a brief paragraph noting the county seat, the origin of its name, the date founded, important features and history, and tribal names of the Native American people native to its borders.
The markers are attached to the face of rusticated stone blocks that form seats along a long low wall at the lake edge.
Time capsules for ten counties were sealed in 2001 and are buried on the Eastern Washington Butte at the north end of the Arc, to be opened in 2051.
History:
The county markers project was conceived and promoted by the North Capitol Campus Heritage Park Development Association. The markers were fabricated and installed in 2002 with the additional support of the Thurston County Board of Commissioners, the General Federation of Women's Clubs, the Washington Association of Former County Elected Officials, and numerous private and public donors.
View the inscription text for a county by selecting the county name below.
Maintenance Record:
The markers have weathered inconsistently leading to some loss of legibility; but overall they continue to be in good condition.
In 2002 an interpretive sign that tells about the county markers was added at the crosswalk near the corner of 5th Avenue and Simmons Street.
The markers and the stones are gently pressure-washed annually.